A non exhaustive list of current features of FlightDeck A32X software.
Full 3D cockpit layout
All systems working
All synoptic pages can be displayed
Full working FMS and FMGS (Thales)
ARINC 424 NAV database from Lufthansa LIDO systems
Manual flying or fly with Autopilot engaged
Instructor panel for failures and setup
Special CAT II / III failures for Auto Land training
Library which allows you to store and access HTML & PDF documents within Flightdeck.
3D visual with resolutions up to 60cm depending on regions
Global 3D terrain model based on NASA SRTM data
More than 4'100 airports from +/- 60 deg LAT with RWY length > 5500 ft. See a list of all airports and runways here.
Record and save snap shots for playback and sharing
ATIS generated on airport ATIS frequency based on weather setting
Independent of any other third party simulation software
EIS1 and EIS2 support integrated with ISIS option
CFM56 and V2500 enginges integrated
Units KG and LBS integrated as well as Degree F/C
BUSS - Back-Up Speed Scale when All ADRs off
FMGS: Backup NAV feature
METAR: live weather for all airports
NEW: Predicitve Windshear alert comes with optional new WX panel
NEW: "Assisting pilot" feature when AP and/or A/THR is off.
NEW: Use iPad App (Link to Appstore here)to activate malfunctions, also random failures
NEW: Terminal Application for second PC as an Instructor Console with many functions like failures, weather and more.
NEW: TCA Airbus Thrustmaster Sidestick and Throttle Quadrant compatible out of the box. This hardware is the ideal external device. (Video here)
NEW: TrackIR Hardware compatible out of the box. Move your head and your view will move instantly. (https://www.naturalpoint.com/trackir) - Version1.7.x and newer
.. and much more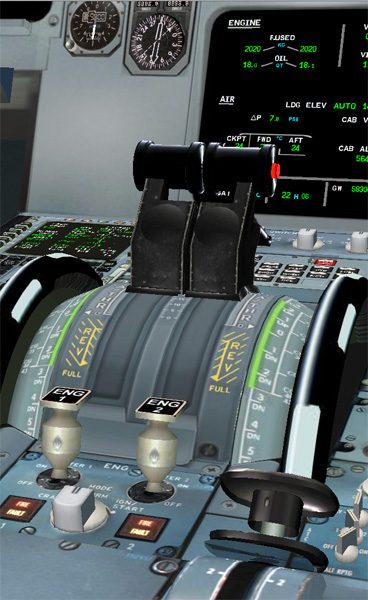 Check out the system requirements here.