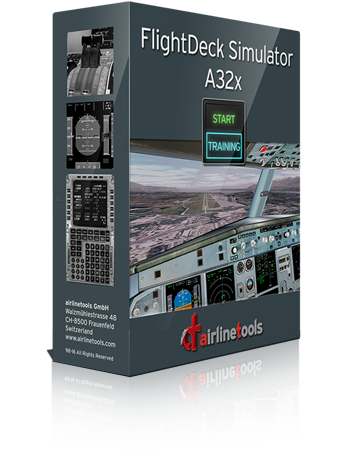 FlightDeck price:
CHF 480.00

Version 1.3.012
Airbus A320 edition, including software updates for 12 months:
3D Cockpit environment for an unrestricted 360° view
13 Cycles of Lufthansa LIDO FMS NAV Database ARINC 424 included for 12 months.
after 12 months a yearly fee of 40 CHF for 13 LIDO FMS NAV Database ARINC cycles. (FlightDeck will also continue to run with outdated FMGS database)
More than 4'100 Airports to choose from a worldwide database
Worldwide NASA SRTM Terrain Database
High resolution Satellite images for Switzerland
Fully functional Thales FMGS
All ECAM pages / EIS1 and EIS2 support
CFM56 and V2500 enginges integrated
All Cockpit sounds including ATIS and Tower
Settings for time of day, clouds, rain, snow and visibility and much more
use iPad as instructor console and FMGS display
available as DOWNLOAD. Software is 5GB in size and will come as six files that can be downloaded after payment
Use coupon code "SeasonsGreetings18" to get 15% off!
(valid until End of Dec)